Efficient fulfillment of  print marketing materials can have an important impact on both costs, as well as achieving those very important marketing campaign goals.  According to the research firm Aberdeen Group, … effective management of printed materials and services, … comprises nearly 7 percent of a company's total budget, requires a delicate balance between cost and quality, … to maintain the company brand, and also sustain consistent market and advertising.   It is clear that fulfillment, warehousing, and distribution of print marketing materials are critical functions for success.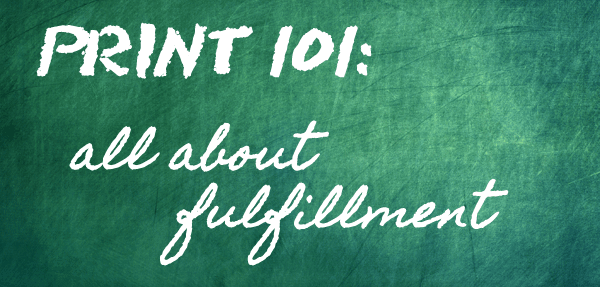 Time is Money
The process of fulfillment is incredibly time consuming, but highly necessary for successful business marketing.  It makes sense, therefore, to outsource these duties so that they may be done in a more expedient and economical way.  This frees up in-house resources whose talents can be better directed elsewhere.  The CMO Council has studied the issue of fulfillment, and has found that marketing executives have little faith in their own organization's fulfillment abilities, and concludes that poor performance along the marketing demand chain can result in the loss of millions of dollars in unseen revenue. Studies emphasize that in-house staff is better used making client contact, rather than folding, wrapping, packing and shipping.
Advantages of Outsourcing
There are quite a few excellent reasons to outsource print fulfillment, and after reviewing them it will seem common sense.  A fulfillment partner can:
1.Receive, Store, Handle, Pack and distribute bulky Items
2. May Negotiate lower freight rates
3. Large scale automation= speed and accuracy
The Right Print Fullfillment Partner
In the greater Los Angeles area, Southern California Graphics [SCG]is an example of the perfect fulfillment partner.  With more than 35 years experience, they have the experience and technology to execute your print marketing materials with a quick turn-around time on any project.  They pride themselves on accuracy and accountability for any order that is packaged, tracked and mailed; with variable data or direct marketing campaigns.
There are benefits to having a fulfillment partner that is also a custom, commercial printing company.  Look for a commercial printer who will have a personal interest in the nature and quality of all of your collateral materials.  They will be able to oversee all of your corporate packaging, ensuring consistent brand messaging across all print materials; from business cards, to brochures, binders, right through to large format posters and trade show displays.
Contact Southern California Graphics and not only will they assist you with print fulfillment, they can customize your print materials so that you have the finest, most cost effect marketing campaign, which will turn consumers into clients.  Your in-house resources will not be able to provide this level of quality service or execution at this cost.  Outsource your print fulfillment with a commercial printer like SCG.  It's the smart move.