Women in printing are not as plentiful as in other marketing and communications industries. However, there has been a growing interest in print communications, leading to larger numbers of women in this exciting field.
Sixth Annual Women in Print Communications Luncheon
The Sixth Annual Women in Print Communications Luncheon held in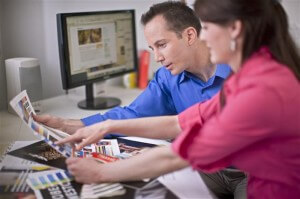 April was a smashing success with speakers providing valuable insight and instruction to attendees. The topic for this year's luncheon was, "Stress Less: YOU Management Vs. Time Management" presented by Colette Carlson, MA. Colette's tips to attendees included:
Replace Multi-Tasking with multi-asking
Know When to let go or take control
Eliminate unrealistic expectations and energy vampires
banish the guilt button, seek connection over perfection
dare not to compare, focus on what is truly important to you
Those who attend were pleased with the presentation and stated they learned actionable tips during the talk. Colette Carlson is known for working with companies such as Boeing, Cisco, Microsoft, New York Life, PepsiCo, Proctor & Gamble, and The United States Government. Her educational background includes a master's degree in Human Behavior.
Women In Print Communications
Women in print communications are becoming more and more visible in the industry, with several corporations providing special awards and education geared specifically for women in printing. The Women of Distinction program also recognized exceptional women in the filed of print communications around the world.
While printing has not traditionally been a totally male dominated filed, there has been less of an interest in the field for women. With an increased demand for digital printing, women have shown a renewed interest in print communications.
At Southern California Graphics, we celebrate these exceptional women making a difference in the print communications industry. Our printing team is an integral part of the Southern California Graphics experience. Without the dedication and hard work of these men and women, we couldn't provide the superior services our customers have come to expect. Commitment to quality, excellence, and growth is the pervading theme here at SCG, and that commitment shines through in every finished product. When you need quality printing, call Southern California Graphics. We provide speciality printing, same day printing, and full-scale design and print services for businesses and individuals around the world.