With the Los Angeles Lakers releasing their new calendars for the up and coming season, we decided to take a look at some of the most creative calendar concep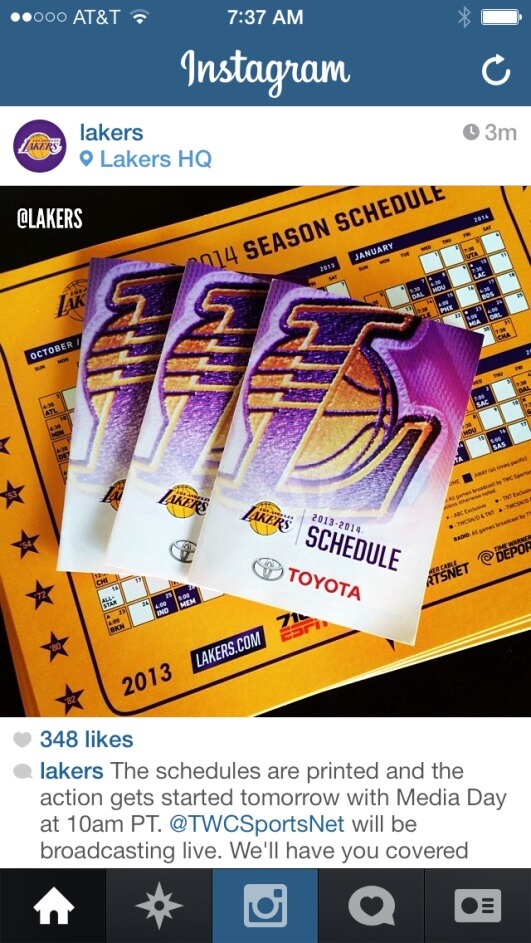 ts of the year. Calendars are a great way to keep your work and personal desk environment to be fun and creative. A calendar has the ability to make Monday fun and exciting. Designers have made it a living to make sure that your calendars are fun and exciting offering date- keepers and time-trackers that revolve around keeping you inspired each and every day.
We rounded up some of our favorites of these inspiration-inducing calendar designs, to help you keep at least one of your New Year's resolutions the whole year long. If you missed our Facebook post to the right is the picture of the Lakers instagram promoting the new season with the updated Calendar. The Lakers do a very good job of using social media in conjunction with print marketing. The calendar has all of the social media icons and QR codes to direct the fans directly to the Lakers website. Here are other great marketing calendars that were done this year. Take a look!
Here are 14 other example calendar ideas from the 2013 season. These examples are from how design.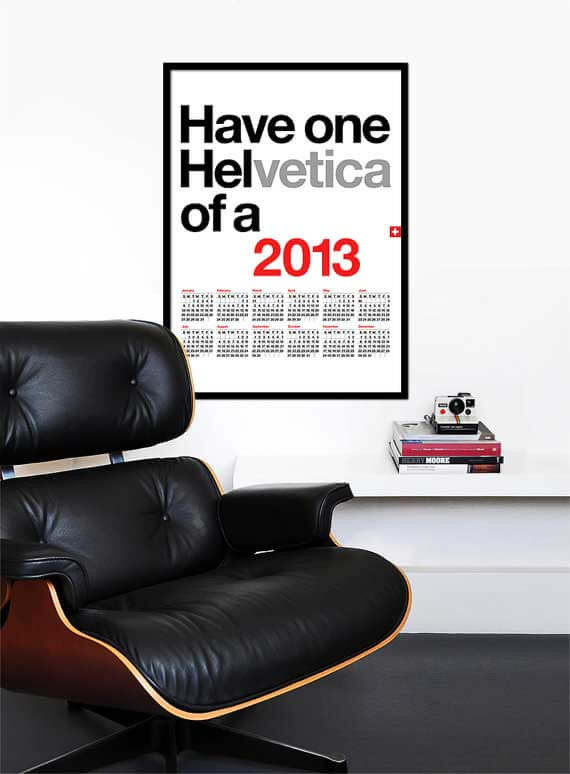 Fun with Helvetica
This font is a perennial favorite of designers, even starring in its own film, so it's no surprise that there's a witty calendar spotlighting Helvetica, as well. This poster-sized print by the British print shop and design firm Yumalum takes a playful turn-of-phrase with its moniker, announcing: "Have one Helvetica of a 2013." A directive fit for any designer's workspace as it keeps this classic typeface front and center, all year long.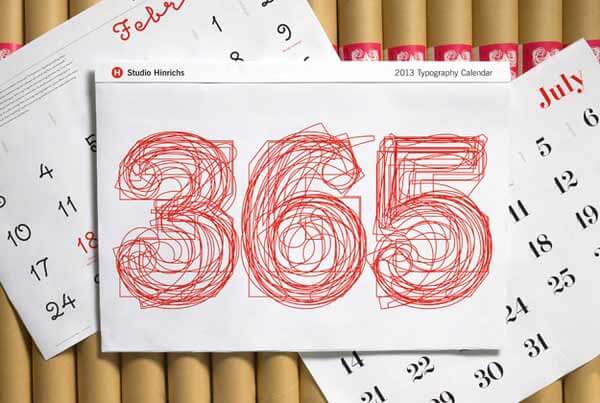 Just My Type
Thanks to Studio Hinrichs, headed by acclaimed graphic designer Kit Hinrichs, you can find a font to inspire your next project with the 12th edition of its annual 365 Typography Calendar, which features a unique typeface each month, chosen by members of the elite graphic-design organization Alliance Graphique Internationale. Featuring typefaces from such graphic-design celebrities as Stefan Sagmeister and Massimo Vignelli, you'll also get a history lesson about each featured face and a biography of the designer who created it. As an added bonus, the calendar also features the birthdays of various type designers, perfect for impressing co-workers when next time you're 'round the water cooler.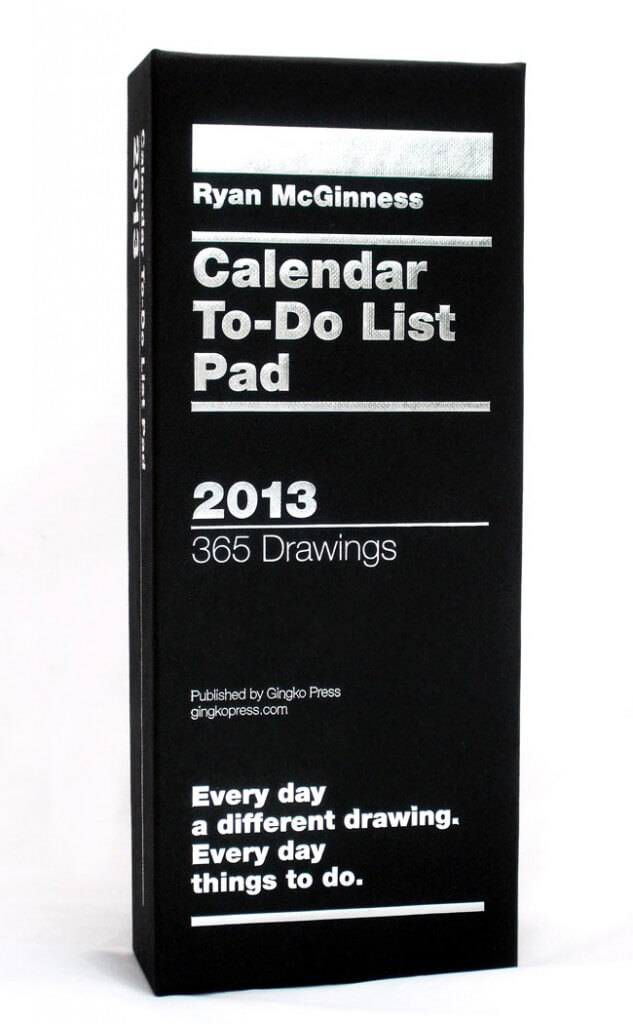 For the Record
For years, Ryan McGinness has been making a one-of-a-kind calendar for his personal use as a creative that integrates datebook, to-do lists, sketchbook and more into one desktop-sized calendar. That calendar, which has been perfected over the years, is now available to all creatives, providing them an all-in-one organization tool with plenty of room to record their plans, brainstorms and doodles in one place. Each page in the 365-page calendar is printed with a light grid to aid in the creative process. Plus, the calendar comes with its own foil-printed, storage box so that if you choose to keep any pages for future reference, you have a safe spot to store and find them later.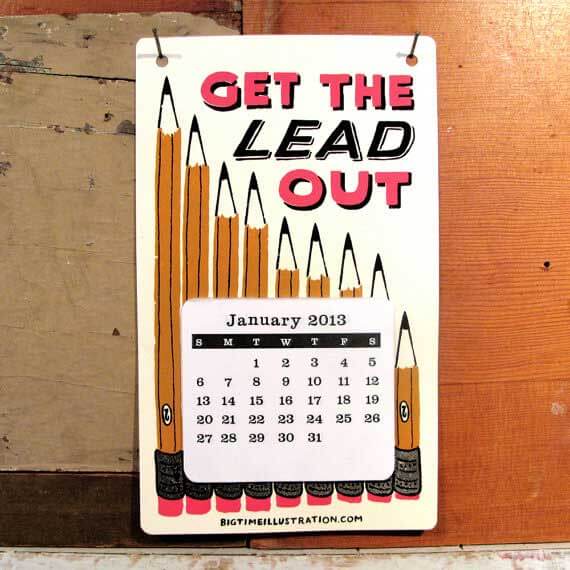 Back to Basics
In the midst of the digital age, have you forgotten your first artistic love of pencil and paper? Has your sketchbook languished—and your creative spirit along with it? Then this calendar by illustrator and lettering artist BT Livermore of Big Time Illustration might just be the creative kick in the pants you need to step away from your Mac and take up your No. 2 pencil again. This hanging shop calendar harkens a pre-digital era with its 6-by-10-inch, three-color screenprint, which is part of a small, un-numbered limited edition.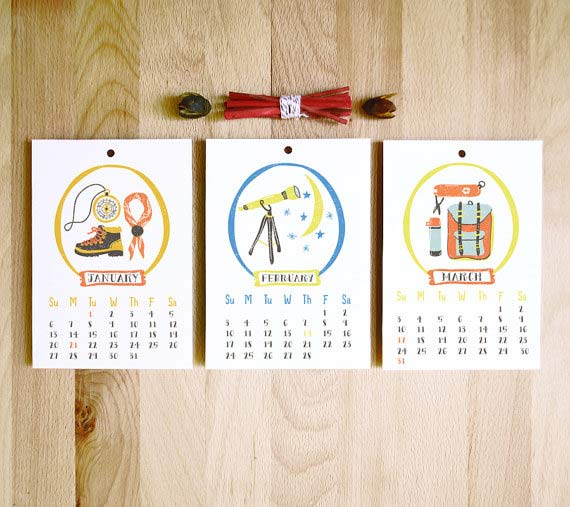 Get Out and Take an Adventure
Nothing can stifle inspiration as much as spending too much time indoors tied to your desk. With its vintage-inspired graphics, this letterpress calendar challenges you to get outside and take on a new activity each month, whether it's star-gazing in February, bird-watching in May or snowshoeing in November. Get inspired to try something new, and see what other inspirations strike.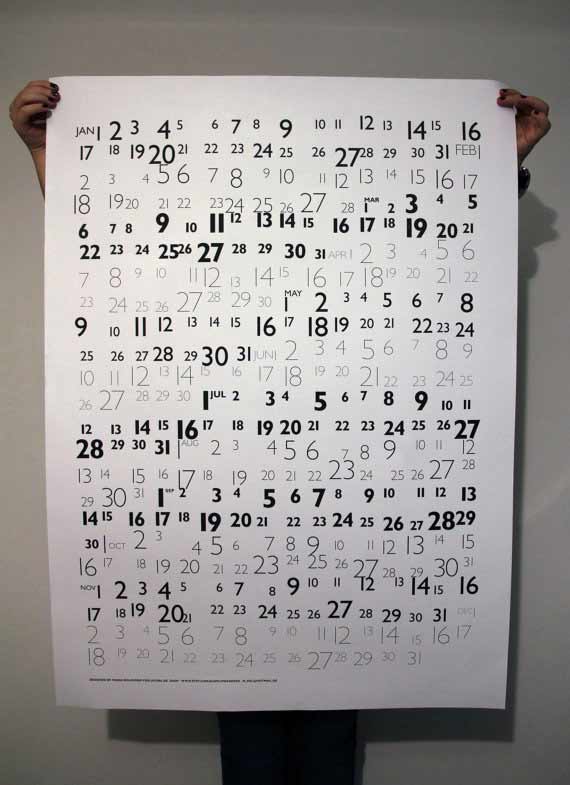 Daily Dose of Inspiration
It might look like it's just a simple, black-and-white calendar. But there's more to this date-keeper than its artfully arranged running layout of dates, set in four variations of Gill Sans that distinguish each month from the next. That all is merely a backdrop for something more inventive: Rather than cross each day off with an "X," Greek designer Maria Deligiorgi encourages calendar users to mark each date with something they found inspiring that day. Whether it's a magazine clipping, a swatch of fabric, or a Post-It note doodle, tape your found bit of inspiration over the date and before long, the poster becomes a huge, personalized and interactive inspiration board. Deligiorgi notes that then, if users ever find themselves in a creative rut, all they need to do is look to their calendar and search through the ever-growing collection of inspirations for something to spark their next great idea.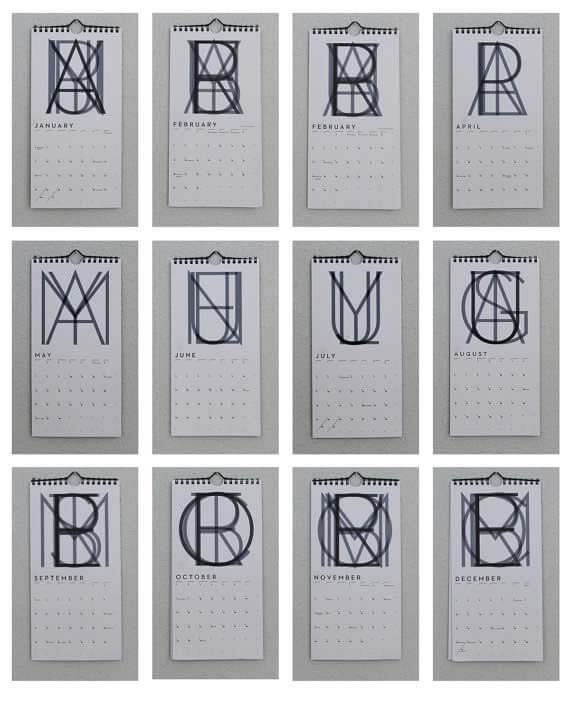 Layered Letters
Portland, Oregon-based designer Briar Levit of BriarMade designed, printed and bound these calendars as a tribute to typography: Each page features the month's characters set in Neutra and layered atop one another, allowing the letters themselves to be the artwork for this piece. "This is definitely a type-lovers calendar," Levit says. "It features Neutra as the main face, and Bodoni Italic for the numbering. One face is modern and the other created in 18th century—but they work together like champs!" Plus, each calendar is printed on salvaged paper and assembled by hand, making it truly a labor of love.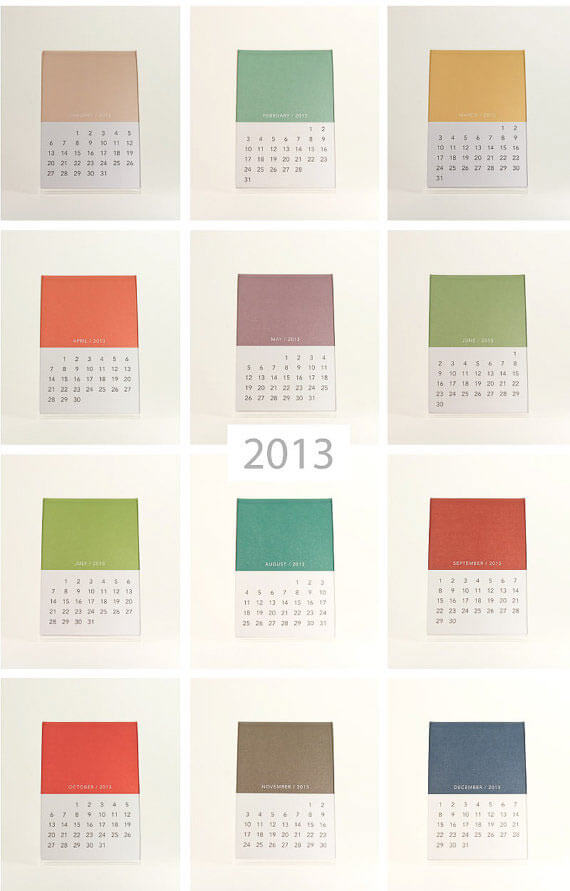 Get Creative with Color
Every year, the color gurus at Pantone predict the next big palette (view the 2013 Pantone Color of the Year), influencing the hues of everything from the catwalk to candy wrappers. Linda Misiura of Ruby Red Design Studio, wanted to preserve that forecast with a 4×6-inch, desktop calendar housed in a mini acrylic stand that features the 2013 Pantone Colors of the Year, which include such shades as Lemon Zest, Poppy Red, Grayed Jade and — the ultimate color of the year—Emerald.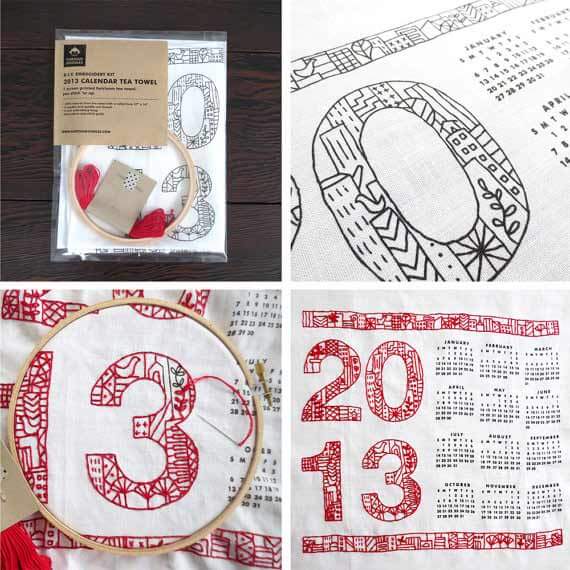 Stitched in Time
Why not try a new creative pursuit as a way to kick off the New Year? Whether you've ever stitched an inch before in your life or not, the old art of embroidery can be a great way to spark your creativity while your hands are busy and your mind free to roam. Laura Trimmell is a graphic designer by trade who discovered this truth for herself in college when she fell in love with embroidery. She subsequently created the Etsy shop CuriousDoodles where like-minded artists can source hip, well-designed embroidery kits, including her screenprinted tea towel  printed with the 2013 calendar and is ready to be embellished with needle and thread. The calendar's design is inspired by traditional Redwork embroidery from 19th-century Europe, which Trimmell updated with a modernized pattern and sans-serif typography.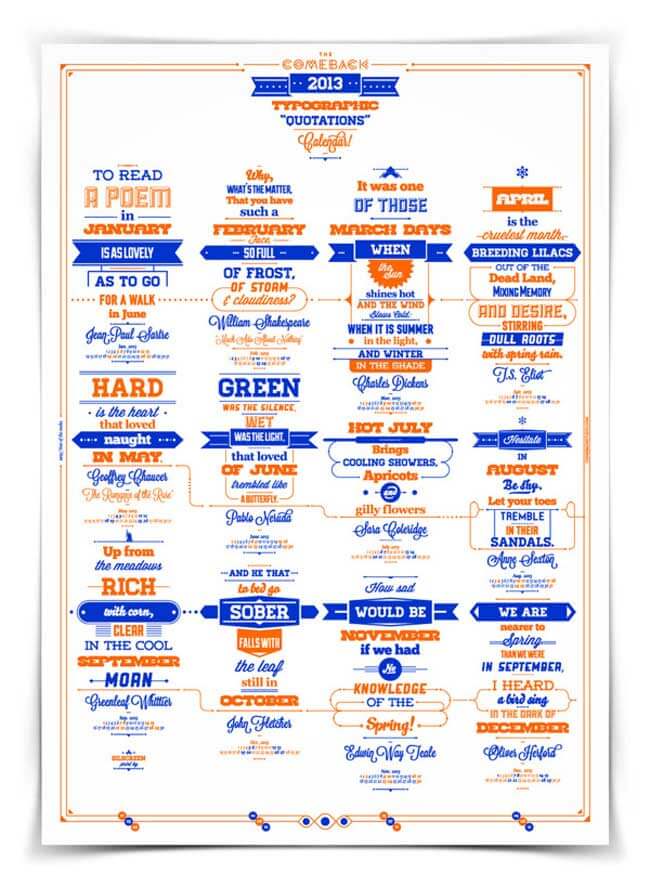 Quotes to Remember
John Fletcher once said, "And he that to bed go sober, falls with the leaf still in October." Quotes like that — from the humorous to the poetic, from the thoughtful to the random — are captured in this poster-sized calendar that is dominated by famous quotes about every month, set in about 15 different fonts. Then, beneath each month's quote is a small grid of dates for each month, allowing the calendar to hang unobtrusively on your wall long after the year has ended if you like. The silkscreened poster, which comes in an assortment of color combinations ("We got carried away with colors!" the team behind the calendar admits), was a collaboration between Greek designers at The Comeback Studio.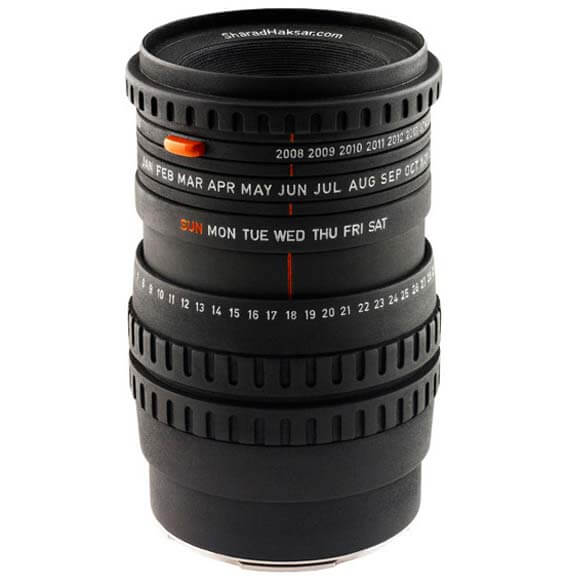 There's no need to be camera shy with this inventive camera lens-inspired calendar, crafted by Indian photographer Sharad Haksar. Fashioned from a single block of aluminum, the shaft is manually maneuvered to display the year, month, day and date for a long-lasting perpetual calendar. At $2,000 a pop, it doesn't come cheap. But since you can use it for the next twenty years (its markings go through 2032), you won't have to buy another calendar for a long time.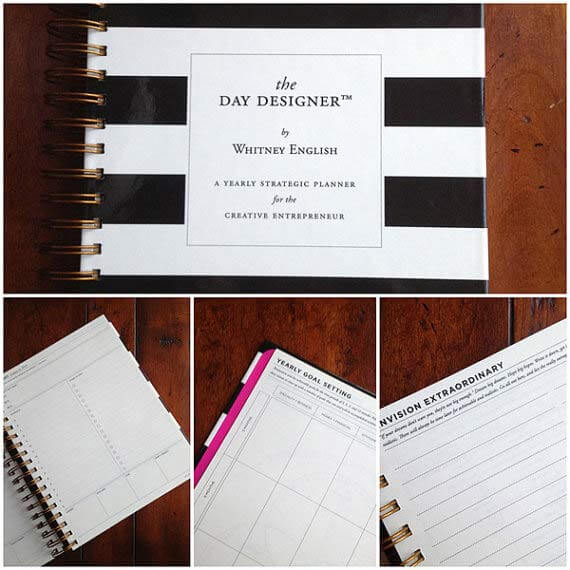 The Day Designer: An Organizer for the Creative Entrepreneur 
"As entrepreneurs and creatives," says designer Whitney English, "we find ourselves designing things all the time. It dawned on me that I needed to apply some of the same design principles to my life, to design a productive day." She began analyzing her workflow and the kinds of tools that streamlined her day, and built an organizer that is specifically geared toward the creative entrepreneur. Dubbed "The Day Designer," English's unique planner includes a place to record your three most important goals for the day; built-in reminders on every page for things like payments, due dates and even dinner plans; as well as worksheets and spots at the end of each week for reflection. As English sums up the purpose of the planner (which she uses daily herself), "The Day Designer challenges me to focus on what matters."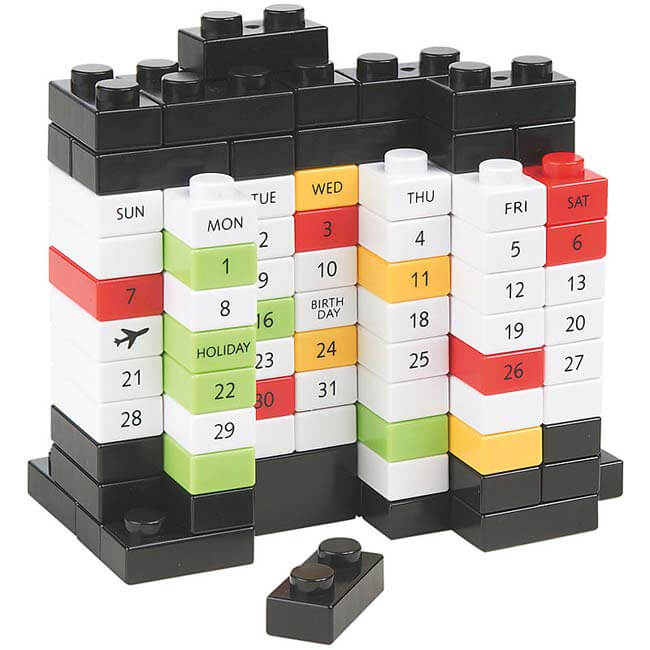 Building Blocks: A Lego-Inspired Calendar
If you're having trouble fitting all the pieces of a project together, take a break and bust out this Lego-inspired calendar from Made by Humans. As a perpetual calendar, each month you can re-build your grid, using specially marked blocks printed with various icons to flag special events or as color-coded reminders. Part of the fun is in finding new ways to construct your calendar each month, which should give you enough time to play around until your next great (work) idea strikes!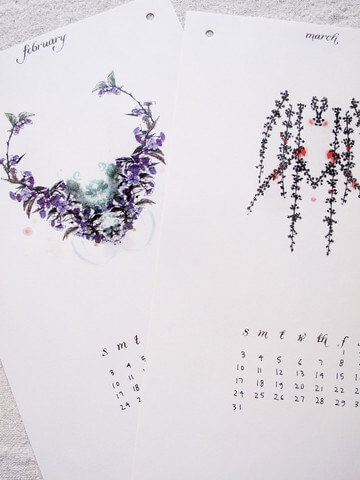 Kim Krans, the artist behind The Wild Unknown, comes out with a set of new calendars each year that showcase her watercolor drawings. For 2013, she wanted to integrate some nature-inspired watercolors (of branches, feathers, leaves and flowers) into one of her calendars and decided to portray them in symmetrical, almost kaleidoscopic, patterns. "Symmetry allows your imagination to expand, to envision or associate different forms within the image," Krans says. "I figured we could all use a year full this dreaminess." Let the poise and playful patterns that emerge from these paintings inspire you as you look at the world around you for all the creativity, hidden right before your eyes.