We're celebrating here at Southern California Graphics. On February 18th, we will have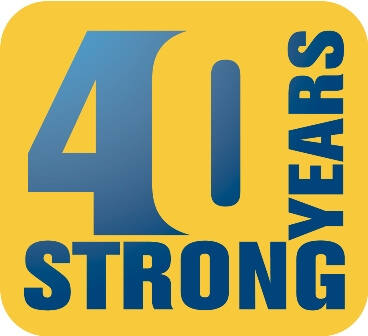 the privilege of serving our customers for forty years. Our 40th anniversary in commercial printing is a huge achievement and a benchmark of our professional goals and vision for our business. The industry has changed quite a bit in the last forty years and Southern California Graphics has changed along with the times. We are going on 40 years strong and we want to thank every client, employee, family member, and team member who have been apart of the SCG family.
A Look at SCG Today
We now run a twenty-four hour service that offers in-demand services like lenticular printing, die cutting and gluing, and creative team meetings. The Southern California Graphics printing shop is equipped with modern equipment run by a talented team of individuals. SCG's working environment encourages creativity and excellence during every step of the printing process. That's what makes Southern California Graphics one of the finest commercial printing companies in the country.
Southern California Graphics: A Look Back
SCG started out as a small, family run business in 1974 dedicated to serving the Southern California community. We now ship printed products all over the world and have acquired many coveted industry awards along the way. We've met some great people and partnered with some of the top companies in America over the years, including Fortune 500 companies. It's been a great first forty years.
While forty years is a long time to be in business these days, we're just getting started. We have exciting projects we're working on and plans to continue to bring modern commercial printing services to Southern California. Have you tried SCG's award winning printing services? If not, consider this your personal invitation to give us a call, come have a cup of coffee, and talk about your vision for your company. We can help you reach new heights through quality commercial printing services.
 Southern California Graphics can help your business with:
direct mail printing
digital printing
premedia
lenticular images
full color printing
foil stamping
die cutting and glueing
saddle stick printing
ads
UV printing
3D printing
…and a whole host of commercial printing services. Give us a call today to talk about your printing needs, (310) 559-3600.
Looking to the Future
What does Southern California Graphics have planned for the next forty years? We intend to further expand our world class service. While Southern California will always have our heart, SCG plans to offer more modern printing services to our worldwide market in the future. We'll always serve U.S. businesses with pride and our friends and neighbors in Southern California. If you're in the area, feel free to stop by and say, "hi" and celebrate with us this week as we proudly mark this historic date in our company's history. Let's make the next forty years the best Southern California has ever seen.
A Sincere Thanks from Southern California Graphics
We'd like to extend our profound thanks to our customers both past and present. Without you, our business wouldn't have flourished over the years. Thanks for letting us be a part of your success and growth over the years.