Finding the Best Company for Print Marketing for Banks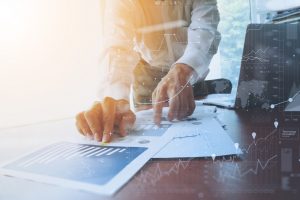 As the economy improves, it is more important than ever to conduct effective print marketing for banks. That's because a healthy economy produces healthy competition and print marketing for banks must stand out from the rest of the crowd.
At Southern California Graphics (SCG), we know that this is also true for credit unions, which are usually smaller and face intense competition from  national banks.
There are many options for an effective campaign for print marketing for banks and credit unions, including
Direct mail – Hardly a week goes by when the average consumer does not receive an offer from a bank or credit union trying to attract their business. Why is there so much attention and resources paid to direct mail in print marketing for banks? Because it works. Despite the digital age, the U.S. mail is still a very effective channel for print marketing for banks.
Brochures – Banks and credit unions have many products available to consumers – so many that customers don't know many of them. Providing information in a brochure on the various loans, investment options, and financial recommendations can be a lasting, effective way to generate more revenue through existing customers.
Flyers – Print marketing for banks can also include flyers that highlight a current promotion such as a special auto loan rate, or a new bump in the interest rate paid on a certificate of deposit.
Location signage – Inside each branch of a bank or a credit union are a number of existing customers waiting to be captivated by a well-designed, high quality sign announcing the latest promotion.
Invest in SCG for Effective Print Marketing for Banks
Southern California Graphics has been a trusted name for over 40 years. Our design and production teams understand how to create print marketing for banks and credit unions that help generate interest, excitement, and sales.
SCG is a recent winner of the Best Printing Company of the Year award presented by the Printing Industries of America. This national recognition is just one of the many awards with which we have been honored over the years.
To help produce high quality, affordable print marketing for banks and credit unions, we are continually reinvesting in the latest technology. Our print shop houses only the leading edge technology print equipment and machinery, including the HP Indigo 10000 Press, which provides super sharp products for print marketing for banks and credit unions, including:
Direct response to generate new bank leads
Brochure printing for bank products
Flyer printing for bank promotions
3D printing
Large format printing for in-branch signage
And much more…
Turn to SCG to help create the outstanding print marketing for banks and credit unions that you need to get the response you want. For more information, call us at (310) 559-3600 or click here to reach us online.