Increase Direct Mail Sales
Creating an effective direct mail campaign might seem like a difficult task, but with a few simple moves and the right market research, you can create a direct mail campaign that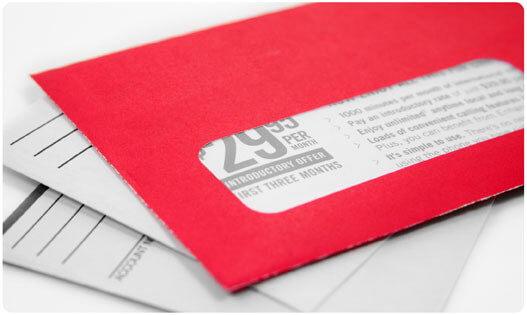 will pump up sales and bring in a ton of new customers. Most business owners know they should be taking advantage of direct mail campaigns, but few know exactly HOW to do it. Without a solid game plan in place, it can be extremely difficult to develop a direct mailing campaign that gets results. But done correctly, direct mailing is one of the most powerful advertising tools in your arsenal.
Effective Direct Mail Printing
Direct mail printing works best when you develop a plan that attracts new customers and also entices existing customers to stay engaged with your business. After all, one of the biggest measures of a successful business isn't just getting new customers, it's keeping current customers happy and loyal to your business. For existing customers, a successful direct mail campaign should offer incentives and exclusives to reward their patronage and keep them excited about your products. Another huge draw is offering "auto renewal" at a discount, which has been proven to help businesses retain 80 percent of existing business.  Reminders for service or to visit your shop (with a discount offered when they bring in the direct mail ad) is a huge seller. For new customers, think of a direct mailing that will draw them in – such as a special discount or giveaway for first time customers. Let new customers know what sets you apart from the competition – and why others have chosen your business over the "other guys".
Direct Mail Printing Within The Los Angeles Area
It's important to find a quality printer for direct mail printing. Los Angeles is one of the nation's largest advertising markets, so there is a huge amount of competition for businesses to get their name out there. If you're looking for innovative and creative direct mail printing, Los Angeles' Southern California Graphics is a commercial printing company that gets major results for clients.  Southern California Graphics can help your business create highly-effective direct mail campaigns that will bring in new and repeat customers. SCG has a wide variety of printing services available and can help with every step of your business' advertising campaign – from custom logo creation to advertising design and concepts to next-day printing services for campaigns that have a quick turn-around time. Clients who have worked with SCG say it is one of the best decisions they have made for their business.
Finding A Commercial Printing Company that Specializes in Direct Mail Marketing
Once you've decided on a concept for your direct mail campaign, it's time to work with a commercial printing company that will work with your goals in mind. You also need a Los Angeles printing company that can create innovative direct mailing campaigns that fit your vision, your sales goals, your timeline and your budget. With 40 years as a leader in commercial printing, Los Angeles' Southern California Graphics can help your business achieve its direct marketing goals. To learn more about how SCG can improve your direct mail sales, visit their website to view samples and contact a design expert today, (310) 559-3600.